Greetings from Aremiti in Faro, Portugal – and Julia and Chris now back in Bristol! We travelled another 434 miles westwards in September and are now well and truly out of the Med.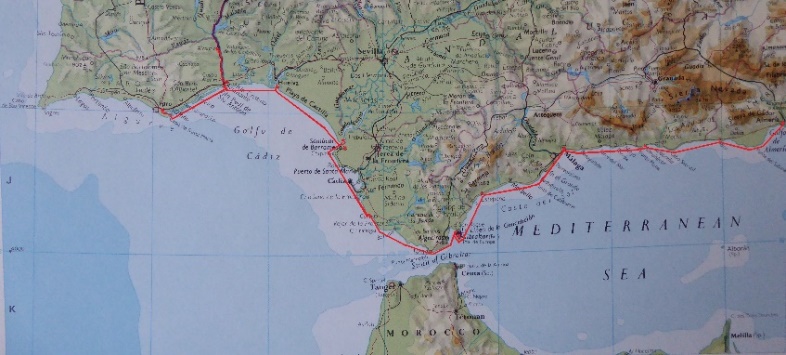 We started the month in Almeria, at the eastern edge of Andalucia, having just arrived from our mammoth month of voyaging in August. Perhaps not surprisingly after the first couple of days of exhilaration, we experienced something of an anti-climax - not helped by a 'Levanter' - an east wind which would have been rather more welcome during the previous week's long passage - bringing exhaustingly hot and humid weather. Almeria is a pleasant, if unremarkable city and port. Mainly modern, there is an old town area of narrow streets, with houses in attractive muted red and yellow – reminiscent of the colours of the Spanish flag. Overlooking the city is the Alcazaba, a Moorish castle dating back over a thousand years – the first of several more we would see along the Andalucian coast.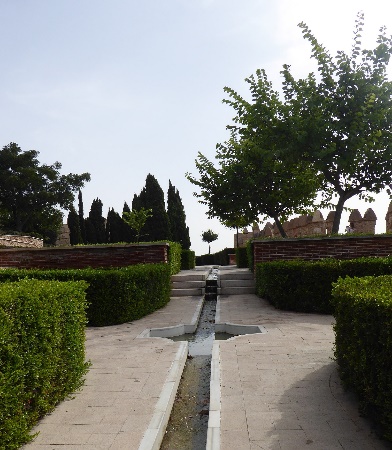 Its very attractive gardens - a good variety of trees, paths, pools, and fountains – inspired ideas for our own garden fountain – maybe! Up a level to the Moorish fortress and residence of the governor – much of which still undergoing archaeological work, and all topped off by a Christian castle (currently partially out of bounds due to the filming there of Wonder Woman 1984). Back down in the city, the grey stone fortified 16th century cathedral has an austere and forbidding exterior and an interior of immensely tall forest-like pillars and side chapels which leave a surprisingly small space for a main congregation. Perhaps the most poignant and touching sight was the sculpture of a whale on the waterfront, embellished with personal messages, toys and flowers. This, we discovered, was in commemoration of an eight year old local boy, Gabriel, who had been brutally murdered earlier this year. A desperately sad story – we heard how the whole town had been taken over and much affected by the search for the boy and subsequent revelations.
Time to move on – into the Sea of Alboran – the westernmost part of the Mediterranean. Having twice sailed directly between the Gibraltar Strait and Almeria, we felt this time we should make a more leisurely investigation of the Costa del Sol, although this part of the Spanish coast did not sound enticing in either the guide books or sailing information. Devoid of cosy anchorages, it was likely to be a series of marina stops in vast beach resorts. And so it transpired – so not one of the best weeks of the summer. We set out on the first day with very little wind, heading into considerable swell with current against us.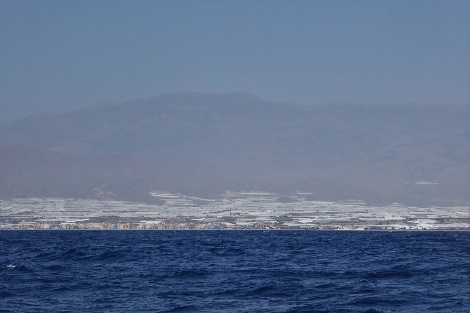 For the whole of that day and well into the next the coastline was dominated by an inland sea of polytunnels – which smother the whole coastal plain going up into the foothills of the Sierra Nevada behind. 'Campo de Dalias' is such a huge and disfiguring area that it can apparently be seen from space. It is a significant draw for illegal immigrants from Morocco and other African countries – the only people willing to work in the dire conditions. What happens to the used plastic sheeting is too dreadful to contemplate. We enjoyed some light relief in the form of a fiesta we happened upon in the resort of Adra – which involved a large part of the female population wearing their flamenco dresses and a bizarrely avant-garde burlesque performance in the main square – incomprehensible to us – the only foreign onlookers it seemed. A big parade was promised, but nothing had appeared by 11.30 when we were ready to collapse into bed.
Our next destination was Almunecar, where there appeared to be the slight possibility of an anchorage off a beach with some shelter from the swell provided by a picturesque rocky outcrop – we thought. It was actually quite rolly – it is amazing how swell creeps round all apparent obstacles - but undaunted, we decided to deploy the kedge anchor from the stern in order to position the boat to face into the swell rather than catching us beam on. This worked quite well – until the early hours of the next morning, when we woke to the awareness of significant rolling, with swell now coming in from a different direction - as was a storm with thunder, lightning and rain.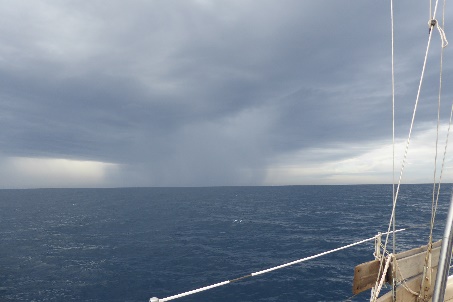 Given that we might need to get out fast, there was nothing for it but to take in the kedge anchor and get the dinghy and outboard engine back on board – all in pitch black and pouring rain in the rolling sea. We didn't manage much more sleep and were glad to get on our way – although in grey conditions more reminiscent of the North Sea than the Med. The day did not improve as, passing more beach resorts, we watched squalls developing at sea, approaching the coast, and passing all around us until inevitably one of them got us. After our last month's experience, this one was quite tame, but nevertheless we were more than happy to get into the marina in Malaga – just before another arrived bringing yet more torrential rain and lightning.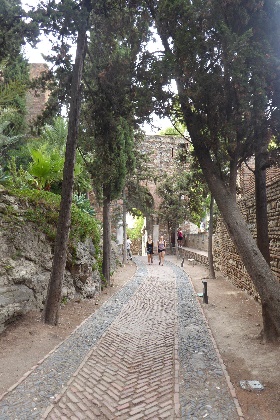 Malaga was an unexpected delight – despite the rather grey and damp conditions. The two magnificent Moorish fortresses: the lower a mini Alhambra, the upper with its extensive battlements high above the old city, the grand bullring, and the luxuriant tropical forest of the Passeo del Parque. The Picasso Museum, tucked away in the narrow streets, was excellent and far more extensive than we had expected.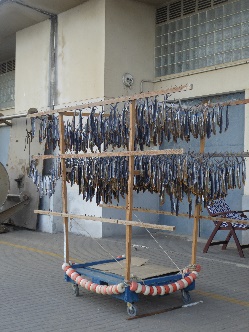 Continuing on our way, we passed the vast resorts of Torremolinos, Fuengirola and Marbella – 'highlights' of the excessively built up coastline - swept along by an excellent current to Estepona, our final destination on this stretch. Dominated by its 1960s promenade and architecture, it was also notable for serious fishing activities.
And so to Gibraltar – and our exit from the Mediterranean. We had the iconic Rock in view for the 20 miles from Estepona and enjoyed good current all the way – and even a burst of sailing. We rounded the point amid tidal rips and proceeded up into the very gusty bay, keeping our wits about us as we picked our way between anchored ships and others which were almost imperceptibly on the move.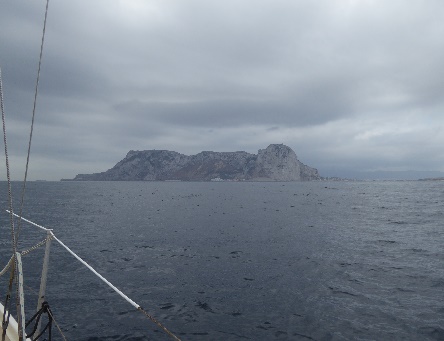 The bay was also teeming with dolphins which struck us as incongruous and incompatible with all the heavy shipping – but presumably they know what they're doing. Our marina – which we last visited 16 years ago – was right up at the head of the bay, a mere 100 yards off the airport runway. It did not seem to have changed a bit. Having visited Gibraltar a couple of times before, we were more in shopping than sightseeing mode. Chris' clothes all seemed to have disintegrated at once, so we headed straight off for Marks and Spencers, and then to Morrisons for some proper tea and other such British delicacies! It's a funny old place Gibraltar. Its heritage is all around in the form of grey stone military looking buildings with British army names and UK style road signs (though they drive on the right). But this all seems secondary to the fish and chip shops on Casement Square and Main Street – a rather downmarket and unexciting street of shops – albeit busy and obviously thriving. Among several British stores are a disproportionate number of perfume, booze and jewellery shops – presumably aimed at the cruise ship trade. Amid such Britishness it seems odd to hear what sounds like Spanish being spoken – in fact Llanito – an Andalucian Spanish dialect laced with English which is the language Gibraltarians use between themselves.
After a couple of days we were off on our way again. Leaving at dawn should, according to the pilot book advice on tides, have given us good current proceeding westwards through the Strait, but we soon hit strong adverse current. However, by tagging behind a fishing boat moving further inshore we found current going our way. The currents, counter-currents and counter-counter-currents inshore of the main flow of the Gibraltar Strait are beyond the remit of the information available to us – but fishermen always know about these things! Not that it mattered too much as we were only going 16 miles to Tarifa - the southernmost point of mainland Europe - south as well as west of Gibraltar. As one of the world's most popular destinations for wind sports, it is not necessarily the ideal place for a yacht and there is no provision for them in the very busy little harbour. However, keen to revisit after 16 years we decided to give it a go. By a great stroke of luck we found a sailing school yacht from Gibraltar moored in the only possible place.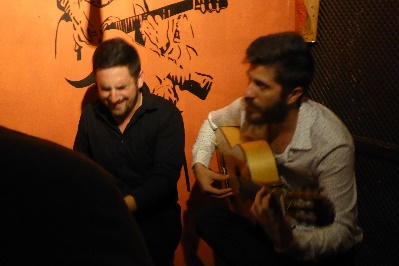 We rafted up until they left an hour later and then settled down to enjoy the town and harbour – busy with fishing activities and the frequent arrivals and departures of monster catamarans ferrying passengers to and from Tangier. The town is quite delightful with narrow winding streets of white houses and boutiques, a very satisfactory Moorish castle and one of the most opulently decorated 15th century churches we have ever seen with statues dressed in actual velvet and satin and an extraordinary wedding cake of an altar. We were also thrilled to encounter a genuine and very passionate flamenco performance. The intense angst and stylised fury of the male singer, guitarist and female dancer were much appreciated by the aficionados.
Up until this point we had seen no sign of immigrant activity – though had heard very frequent pan-pan calls on the VHF radio concerning boat loads of immigrants crossing the Alboran Sea which we were urged to look out for – and render assistance if necessary. We had also overheard a conversation between a vessel engaged on 'Sea Guardian' – interrogating a ship in the course of its mission which includes upholding freedom of navigation, maritime counter-terrorism and countering proliferation of weapons of mass destruction and protecting critical infrastructure. Wow! However, we then actually observed the interception of an immigrant rib by a large Spanish Search and Rescue vessel about a mile away from us, a few miles to the west of the strait. We can only assume they had been swept out of the Mediterranean on the tide. The encounter seemed unresolved as it faded from sight – but it certainly gave the whole issue a stark reality.
Having well and truly left the Mediterranean now, we found ourselves back in tidal waters, which was quite a shock to the system. We were more than happy to take the helpful tidal currents when these were going our way but, at our first anchorage on this stretch, we almost forgot the aspect of tides involving the rise and fall of water and had to re-anchor to avoid going aground a few hours later!
The coastline all the way to Portugal is low lying and strewn with shoals and river entrances. To make our life more interesting - or difficult - or as an intensive re-introduction to tidal waters, we decided to venture into a couple of the rivers. The Rio Guadalquivir was familiar to us from the bitter-sweet time we spent up near Seville in 2011-13, so for old time's sake we thought we'd pop into the lower reaches.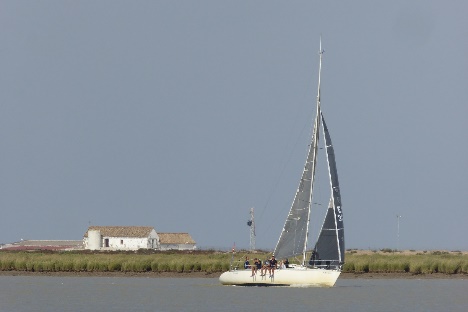 The river which is buoyed from 4 miles out, is strongly tidal requiring arrival on the flood tide. We planned to stop at Sanlucar de Barrameda – home of Manzanilla (a dry sherry), and also a yacht club which just happened to be holding a regatta on the day we were there – a challenging 50 mile race down the river from Seville, celebrating the 500th anniversary of the first circumnavigation of the world under sail, by the Magellan-Elcano expedition which departed from Sanlucar. In the event we anchored a little further up the river, opposite the salt pans of Bonanza. Once the fleet of race yachts had passed us, we spent a wonderfully tranquil evening soaking in the aura of the river, on the edge of the Donana National Park which is one of the premier wetland sites in Europe – relishing the tranquillity, the sense of isolation and wilderness, and the big ships quietly gliding by – a magical place.
New to us was the Guadiana River, which forms part of the boundary between Spain and Portugal.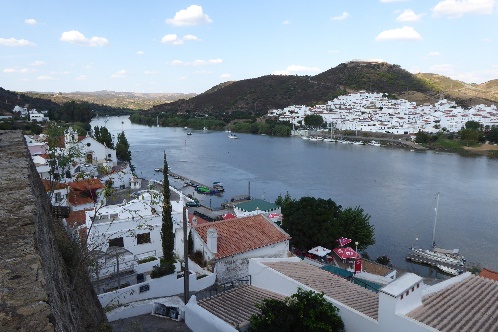 Tricky one this, with a bar 8 miles off-shore, marked by two sets of buoys and water only deep enough from half tide upwards – requiring a fairly precise arrival time – in our case an hour before sunset. Arriving an hour early we were encouraged by the sight of two or three yachts beginning to make their approach into the river – and duly followed. After a night in Ayamonte – the town on the Spanish side, we set off up the river with the tide. The river has an open pastoral atmosphere, gliding through a rural landscape of farmland with olive groves, herds of cows, a few vineyards and many derelict farmhouses. The hillocky landscape is very pleasant, though to our minds, this river is not as atmospheric as the Guadalquivir and we were rarely out of sight of human activity. We spent that night 20 miles up the river at Alcoutim, a lively village on the Portuguese bank – opposite (another) Sanlucar on the Spanish side. Here a zip wire crosses the river – apparently one of the few, if not the only zip wire to cross an international border! This river has become quite a haven for liveaboards – crews who live permanently on their yachts, who talk of the 'Guadiana Glue' – unable to tear themselves away from the relaxing community ambience. We met a young family on a boat the same as ours who were finally moving ashore and selling the boat after having lived on the river for 6 years. Our conversation with them gave us an insight into the liveaboard life there – though it isn't a life we would want.
Finally to the Ria Formosa – the shoaly area of tidal wetlands separating the mainland from a series of barrier islands along a 30 or so mile stretch of the coast.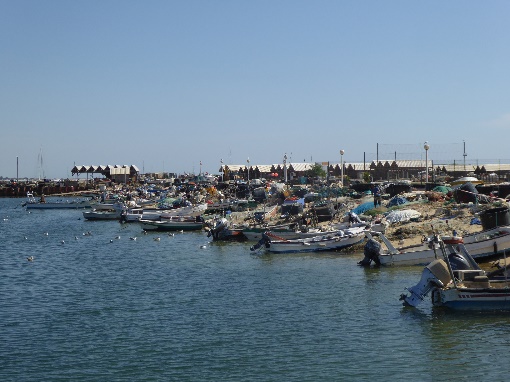 The well-marked entry at Cabo Santa Maria presented no problems, though as we were on a falling tide just before low water, the sight of a yacht aground was somewhat disturbing. We anchored off Culatra – one of the barrier islands. Really not much more than a large sandbank, the island is home to fishing communities – and increasingly to tourism with its stunning long beaches. The spectacularly ethnic fishing village has no roads – just sandy tracks between the mostly single story dwellings and ancient tractors are used to pull boats ashore. At low water shellfish gatherers appear on the exposed sandbanks collecting clams and cockles. This was an idyllic final anchorage for the summer where we spent a few days relaxing, before embarking on the tortuous channel through the shoals up into the city of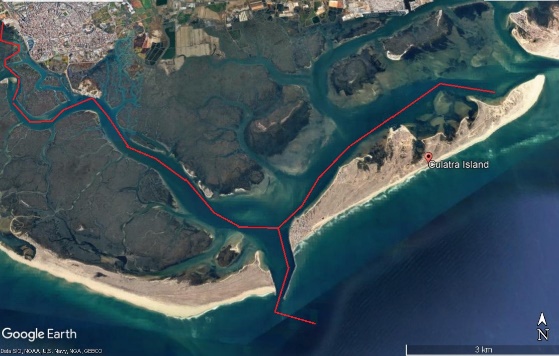 Faro and beyond to the boatyard where Aremiti is to spend the winter. This no frills yard seems very organised and efficient with an international collection of boats. We were intrigued to recognise the boat parked opposite Aremiti as one we met in the Spanish Rias 19 years ago. All closed up, we wondered if it was still in the same ownership. Just half an hour before we were due to depart for the airport, lo and behold, Peter and Gisela turned up to go aboard and, amazingly after so many years, we all recognised each other – huge hugs all round - what a small world!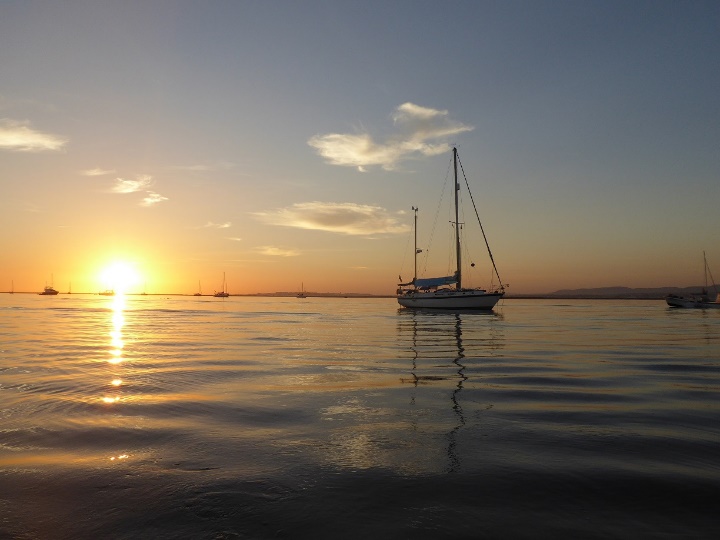 This has been quite a summer – and we particularly enjoyed the company of shipmates. The long haul from Turkey to Portugal looked daunting, but here we are, 2418 miles later at the end of our Mediterranean Odyssey – and ready for new waters!
Julia, Chris and Aremiti