Hola from Almeria – 1512 miles from where we started the month in Crete!
It has been quite a month and we are somewhat astonished to find ourselves here in Spain - and that our ambitious plan to traverse the Mediterranean this month has actually worked!
We arrived back to Crete from a short visit to the UK at the beginning of the month and were joined almost immediately by our friends Trudy and Geoff, who we have known for over 40 years. They are also circumnavigators - so well experienced. We approached the passage from Crete to Malta with some trepidation. Over the previous month it had been impossible not to notice, when checking forecasts for our Aegean passages, that the winds seemed consistently to be howling fiercely from the Peloponnese around to the west end of Crete, and westerly from the direction of Malta. Such conditions would make a passage to Malta impossible, and we had quietly started considering contingency plans – which would have scuppered our plans for the whole month. However, on our return to Crete the pattern had changed and very benign conditions were forecast. Typical of Mediterranean winds – all or nothing.
Leaving Crete was still not easy as we had to claw our way up into the wind and waves around headlands, first out of Rethymno and then Chania, where we completed immigration formalities on leaving Greece. At Cape Spathi, on the far west of Crete, where we were expecting to make our turn westwards, we found a confusion of uncomfortably large seas but no wind, so decided to divert a few miles to the south and spend a night at anchor at Gramvousa – a reputed beauty spot. And so it turned out, we anchored in flat turquoise water, had a swim, followed by a meal surrounded by some fascinating cliff formations and overlooked by a Venetian castle – a lovely final farewell to Greece. However, once the washing up had been done and all stowed away in good order, we felt a flicker of favourable breeze and decided to set off west there and then.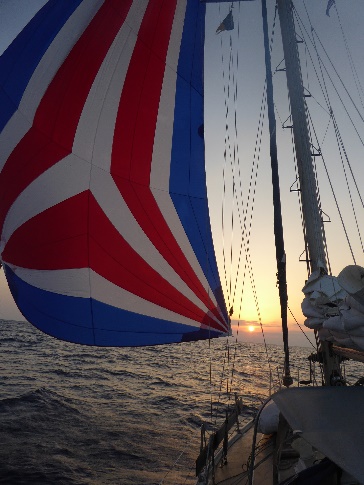 That breeze lasted only a couple of hours, but the following day we enjoyed some excellent sailing on a beam reach before the wind died again. And so it continued over the four days of the passage – sometimes friendly, sailable wind, sometimes no wind. Despite some swell from the direction of Libya, it was all in all a very relaxing passage – probably the highlight of which was a splendid several hours under the cruising chute which wafted us along at a good speed in more or less the right direction.
From around the half way point we encountered increased shipping – all of it approaching us on a reciprocal course – that is, aiming straight at us. This was our first passage since installing the AIS transmitter – the instrument which broadcasts our position, course and speed to other vessels, and it was comforting to feel reasonably certain that they had seen us, rather than anxiously wondering. Nearing Malta, we were startled to observe what looked like an armada of merchant vessels approaching us. However, it transpired that this was a large area of over 40 vessels at anchor. We assume that their position, just 10 miles off Malta and in the central point of the Mediterranean, put them in international waters where they were sitting patiently waiting for their next jobs.
And then we were there! After the concerns of the previous month, it felt almost unreal to have arrived in Malta! Passing the grand entrance to Valletta's Grand Harbour over to Marsamxett Harbour, we were berthed in Msida marina by lunchtime. 461 miles - 98 hours at sea.
Having all of us visited Malta previously, we decided to focus mainly on its smaller neighbour Gozo this time. However, we spent our first evening in Valletta reminding ourselves what a very splendid city it is. Built in the16th century it was apparently the first planned city in Europe – a much appreciated feature being its long straight streets allowing cooling sea breezes to permeate. Its elegant honey-coloured limestone buildings with their windowed balconies create a very mellow and western European atmosphere. As we enjoyed a celebratory meal out, the sound of heavy duty fireworks instantly brought back memories of our last visit 16 years ago when every evening saint's day celebration around the island would culminate in what sounded like an aerial bombardment.
We departed the following morning to make our way along the northern coast of Malta – a continuous strip of beach resorts – to St Paul's Bay - reputed to be the spot where St Paul was shipwrecked on a shoal. Co-incidentally we observed a merchant vessel aground on the shore opposite to our anchorage - but our navigational skills kept us afloat.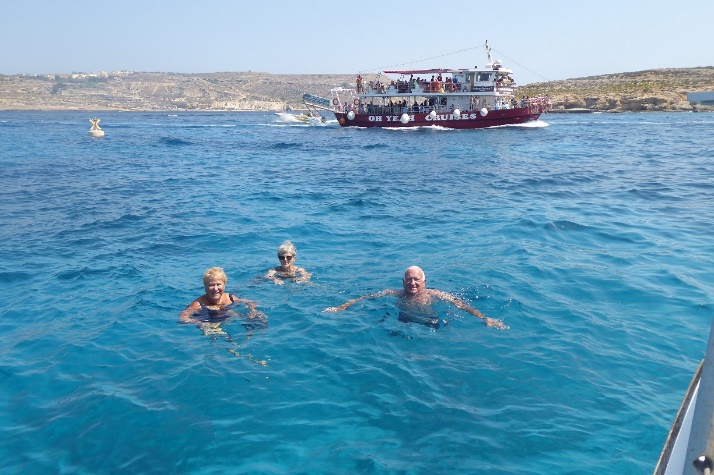 Our final day with Trudy and Geoff was spent on a marine sightseeing trip. First the Blue Lagoon off the island of Comino, between Malta and Gozo. It had probably the most beautiful bright blue water we have ever seen – but unfortunately was utterly overwhelmed by the mayhem of visitors on boats of all sizes, some anchored others whizzing around. We enjoyed a quick swim and some incredulous gazing at the chaos before moving across to the spectacular south-eastern coast of Gozo – a complete contrast to the coastline of Malta - spectacular cliffs with very regular horizontal lines of strata and waterline caves. Our target was Dwerjra – an almost circular bay created by the collapse of a vast underground cavern. The entrance is protected by the huge 'Fungus Rock'. We enjoyed a swim and lunch in these awesome surroundings, before returning to Mgarr – Gozo's port at the southern end of the island.
Trudy and Geoff departed here, leaving us to spend a little more time in Gozo for inland exploration. This took only a day – the island is just 26 square miles in area. Highlights of our hop on/off bus trip were the church in the village of Xewkija – famed (in these parts) as having the third largest dome in the world! This is however disputed by the church at Mosta on Malta.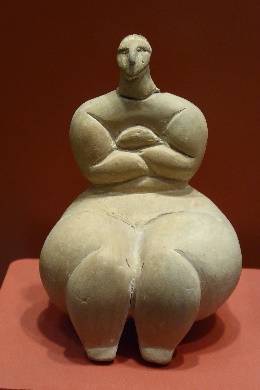 Evidently dome envy is big here! In fact neither rate in world terms, but Xewkija's dome was nonetheless astonishingly huge – and fascinating for the fact that it was built, over 20 years from 1951, mainly by parishioners funded by local donations. Top billing must go to the Megalithic site of Ggantija. These temples are thought to date from 3700-3000 BC – easily predating Stonehenge and the earliest Pyramid. Hugely impressive, and naturally raising speculation about who built them, how and why. Particularly poignant were the fat lady figurines in the museum. Hard to envisage fat stone age people, or a stone age sense of humour!
On to Sicily – we motored the 70 mile passage across a glassy sea in hazy visibility – and excruciating heat and humidity. The only happening of interest was a conversation we overheard on the VHF radio between a vessel engaged on 'Operation Sophia' - an EU naval operation set up to disrupt the business model of migrant smugglers and human traffickers in this part of the Mediterranean – giving some hapless skipper the third degree. Generally we witnessed no immigrant issues in this immigrant hot-spot, though on another occasion along the coast of Sicily, we were buzzed by a plane and then approached at high speed by a 'Guardia di Finanza' launch. Having hurtled around our stern about 5 metres off, they evidently did not deem us suspicious enough to spend time on and roared off.
We had anticipated that our progress along the southern coast of Sicily would be somewhat rushed, given the need to keep up momentum to complete plans for the month. However, it turned out to be a relatively relaxed and interesting trip in its own right. Much of the coastline of southern Sicily is very shallow, and so the sea is a bright turquoise colour some way offshore.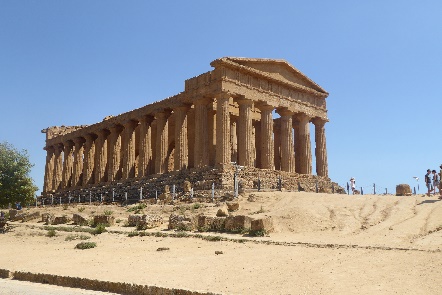 This together with long golden beaches interspersed with bright white limestone cliffs backed by low lying hills would seem to make it ideal beach resort territory, but apart from the odd small complex it is almost deserted. It is not much of a cruising area and, lacking anchorages, this being Italy in August, it became a series of expensive marina stops, this being Italy in August, most completely devoid of any facilities. We certainly missed the cheapness and friendliness of Greek town quays. Highlights of this phase included the magnificent ancient Greek site of Agrigento – hugely impressive with its row of mighty golden stone temples built along a ridge. In Sciacca we visited the 'Castello Incantando' – an utterly bizarre garden of sculptures of faces in the 'Art Brut' (untrained) mode, created by a clearly slightly deranged local artist following the disappointments of his earlier emigration to the USA. Also here, completely by chance, we observed the boat we very nearly bought just before we found Aremiti. We admired her sleek elegant lines – which is what attracted us – but seeing her slightly down at heel and teak deck obviously in need of replacement, we felt very happy with our final choice.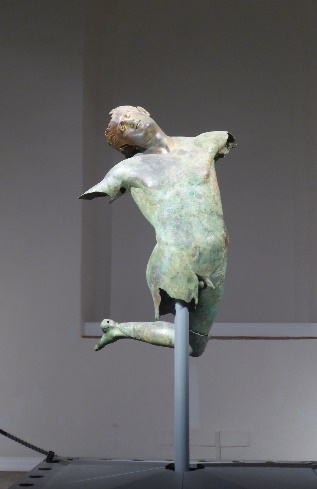 Mazzara del Vello is reputedly Italy's largest fishing port – and being fascinated by fishing activities, we were keen to have a look. However, the town, which we had expected to be a scruffy little fishing port turned out to be a grand city of marbled streets and piazzas and gracious golden yellow churches and palazzos. We had never heard of the place, but it is evidently a favourite holiday destination for Italians. Apart from a lively cultural atmosphere, its main attraction is the ancient statue of the Dancing Satyr. A leg from the statue was dragged up by a fishing boat 25 miles off Tunisia and then some years later, the same fishing boat found the head and torso. Now cleaned and reconstructed, it is marvellously alive and beautiful - its pose somehow reminiscent of the Whirling Dervishes we saw in Istanbul.
By now, approaching the south-western corner of Sicily and the Egadi Islands, we were encountering the beginnings of some very unpleasant weather in the form of the occasional violent squall. Although we were told that such weather is not typical of these parts, these were in fact exactly the same conditions we encountered when here in 2013.
We were keen to visit the westernmost of the Egadi Islands – Marettimo. We had planned landfall from Sardinia there in 2013, but conditions in the middle of the night on that occasion were not favourable. We set course for the island from Marsala – just 24 miles away, encountering on our way a large squall producing an angry confused sea. Arriving off the island's only harbour we radioed in, only to be told that the harbour was full – a possibility which hadn't occurred to us. Anchoring outside wasn't an option because of the rolling swell and rocky terrain.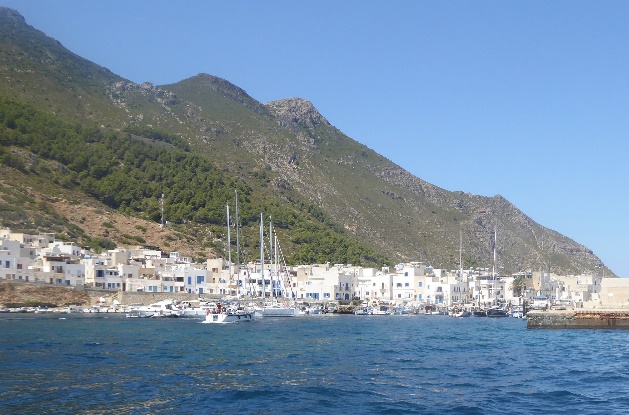 An alternative bay, with mooring buoys out of the swell, was also full – so we had to hightail it 12 miles to Favignana, another of the Egadi Islands. Not to be thwarted, we set off again the next morning, having made a reservation. The island is apparently not so popular for tourists generally, being the furthest from the mainland of the Egadi group, but it is certainly extremely popular with yachties – mainly Italian who obviously know the score – and are prepared to pay the extortionate berthing prices (the highest we have ever paid!). The island is very high, rising to 2250 feet in its tiny area of about 6 square miles. The port has a quaint, North African or Greek look - little white and cream cubed buildings with bright blue woodwork. Tourism has not changed the character of the village – there is nothing chi chi about it. The harbour is absolutely jam packed with small boats moored bows to stern in lines of 4 or 5, and the very busy yacht pontoon. The Italian yachting scene is very family oriented creating a lively atmosphere of jollity on the pontoon – reinforced in the early evening by the funky dance music played to us by the overlooking bar!
Our next big step was the 160 miles to Sardinia – which turned out to be one of the all-time least enjoyable passages we have ever made. Anyone whose idea of fun would be to spend many hours in a confused and rolly sea, as a sitting duck, watching lightening strikes all around, would have loved it. Leaving Marettimo at 8am we were treated, within the first hour, to a tense encounter around our first squall. We weren't surprised as this followed the pattern of the previous few days and we saw it as an Egadi Islands farewell. We then enjoyed a few hours of fresher sunny weather thinking we had got away. This phase was enlivened by a bizarre set of events. Surprised by the lack of any ships showing up on AIS, and finally spotting one far off on the horizon, we concluded that our AIS wasn't working. Around the same time we noticed that our wind speed indicator had got stuck on 50 knots – which it certainly wasn't, as we were slopping around in a windless sea. Two jobs to add to the Cagliari list we thought. However, half an hour later we were visited by a pod of dolphins – just to check us out, sadly not to play. As they went off on their way, both the AIS display and wind speed indicator sprang into life. How spooky - it's certainly given us a new respect for dolphins!
Having thought we had broken free of the Egadi Island squalls, it was disappointing in the early evening to observe a large area of cloud being spasmodically illuminated by spectacular flashes. This vast malevolent area of cloud drew slowly but relentlessly nearer and nearer over the next 12 hours – an awesome electrical storm alive with sheet lightening and, most worryingly, huge strikes into the sea. It was certainly the largest, most powerful and closest squall we have ever encountered – anywhere in the world. All electronic gadgets possible were put into the oven for their protection. It was a truly horrible and scary night as it enveloped us, and it was hard to believe we wouldn't be struck - and to wonder what exactly that would involve. Anyway – suffice it to say that we did not get struck and made it into Cagliari, albeit encountering several smaller squalls on the way. We arrived into our marina early afternoon, sorted ourselves out and went to sleep as the rain poured down for three hours.
Our turn-around time in Cagliari was just a couple of days. Chris Watts, our friend from the Bristol Sailing Association, arrived the following evening. Having sailed with Chris over the past 20 years we rate his great experience and were very pleased he could join us for the final long passage of the month. The destination was Spain – either Cartagena – 472 miles, or Almeria – 560 miles - depending on how things went. Chris had a vital deadline for the passage – his 25th wedding anniversary! Having stocked up with fuel, water and provisions (including a chocolate cake curiously called 'Dark Plunk'), the forecast for the following days looked reasonable – a two metre sea state was set to go down and the winds, starting from the north, would gradually become easterly – albeit with a bit of a windless 'hole' in the middle of the passage.
We enjoyed an excellent sail southwards from Cagliari bound for an anchorage off Cabo Spartivento – the closest point to Spain – to spend a night, to allow time for the sea state to die down a little. The following morning we set off, rounding Spartivento before turning on to our westward course for Spain. We enjoyed great sailing on the first day – inspiring the two Chrises to make an attempt to get our ancient Hydrovane working. This is a device fitted to the back of the boat which can be set to the wind direction to steer the boat. We have never quite mastered it – it is not suitable for coastal sailing – and sadly this attempt did not meet with success either. Our days settled into a pattern of 'work' in the morning with siesta sessions over the afternoon, punctuated by tea and 'Plunk'. Evening meal was at around 1930 – with a glass of wine followed by coffee. We were blessed with a full moon from the day we started. The Chrises took the burden of night watches - four hours each starting at 2100. Julia came on at 0500 and stayed on watch until anyone else showed up. It wasn't a fair division of labour – but thank you boys!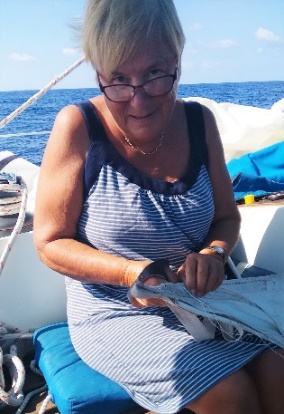 'Work' involved different activities. On the second day we spent several hours sewing! Overnight, during the skipper's watch, while plunging along at 6.5 knots, a slight noise was followed by the sight of the genoa falling gracefully to the deck and into the sea. It was immediately retrieved and tied to the guardwires. In place of the genoa the stay sail was set on the inner forestay – but obviously it had nothing like the power of the genoa (for non sailors: the large sail at the front of the boat). We all took turns sewing the webbing attachment which had come adrift, back on to the top of the sail, hoping that if we could secure it sufficiently to hoist it, keeping a couple of turns round the forestay would be enough to keep it up – and this proved to be the case. Another morning was spent on sail 'management' – how to cope with too little wind in a determinedly rolling sea. Another task was setting the cruising chute – which set us off with great gusto, but sadly didn't last anything like long enough.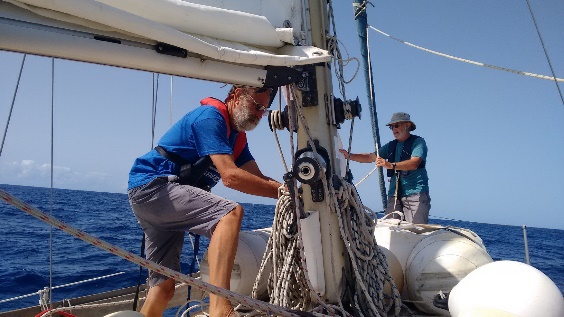 We encountered surprisingly little shipping – and what there was did not involve any close encounters or concerns. However, we were thrilled at the sight of the Queen Elizabeth plying her way gracefully a few miles to the south of us.
The second half of the passage was plagued by our dead downwind course in an increasingly rolly sea – which made sleep almost impossible on our final full night at sea. Light or no winds meant that we had to use the engine more than we'd have liked – but we sailed very nearly half the time. We had current for most of the passage – curiously sometimes with and sometimes against us. However, overall we gained 5 miles attributable to current.
We spied the faint outline of land on the 5th day and arrived off Cabo de Gata a couple of hours into the following day – after 555 miles in 113 hours. We have used this as an anchorage a couple of times before – so know it has good holding and no dangers. We dropped the anchor, celebrated our achievement with Limoncello and fell asleep! The following morning we were treated to an excellent 13 mile sail into Almeria.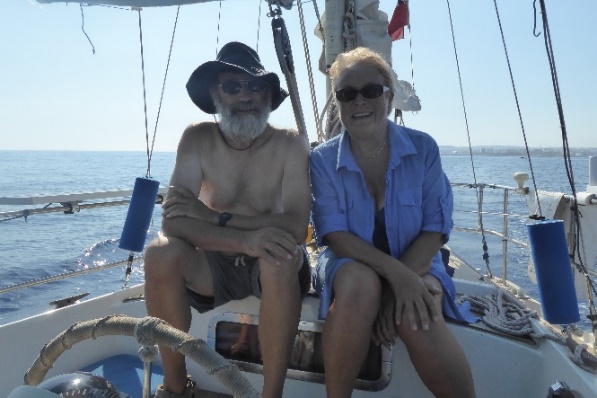 What a great month! We must thank our friends – Trudy, Geoff and Chris - for their excellent company, night watches, and for being someone else to rely on! Perhaps we should do it again sometime!! Next month though, we expect to revert back to our more usual pace!
Julia, Chris and Aremiti